Yoga on the Beach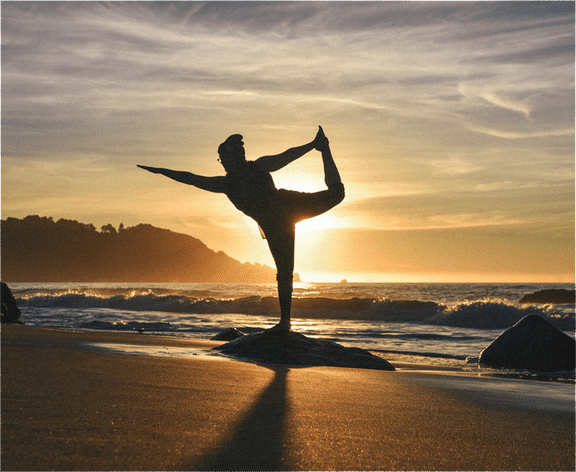 I am raw html block.
Click edit button to change this html
I am raw html block.
Click edit button to change this html
Take a deep of fresh air. Namaste! What could be better than relaxing on the beaches of San Francisco Bay to the soothing rhythm of the waves? Yoga is a series of movements and poses that have many benefits which include: reduced stress, being in the present moment, increased self-confidence, and improved breathing. This event will take place directly on a beach of the San Francisco coast. It includes a private yoga class with advice and guidance from a yoga teacher, and, not to mention, beautiful views of the Golden Gate Bridge during your practice. With this outdoor class you'll be able to fit in some mindfulness and wellness into your vacation. To end this wonderful experience, you even have the option to take a refreshing swim in the Pacific Ocean!
Namasté ! Quoi de mieux que de se relaxer sur les plages de la baie de San Francisco au rythme apaisant des vagues ? Le yoga, c'est quoi ? C'est une série de posture où l'on retrouve plein de bienfaits : réduire le stress, être dans le moment présent, confiance en soi, améliorer la respiration, se tonifier la silhouette… Avec MAD Tours ? Ce sera directement sur une plage de la côte de San Francisco, un cours de yoga privatisé pour plus de conseils et d'accompagnements, sans oublier de magnifiques vues sur le Golden Gate Bridge pendant l'effort. Vous allez prendre pendant ce cours, une grande bouffée d'air en pratiquant en plein air, et pleins de photos pour prouver que vous faites même un peu de sport en vacances. Et pour prolonger l'expérience naturellement, si le cœur vous en dit ou non c'est vous qui choisissez, vous pourrez finir par une baignade rafraîchissante dans l'Océan Pacifique!
Visite collective: De 6 à 25 personnes à pied.
6 personnes minimum par visite collective.
25 personnes maximum par visite collective.
Si ce nombre n'est pas atteint, il vous sera proposé de passer en visite privée ou alors d'annuler totalement. Si vous choisissez cette dernière option, vous serez remboursé intégralement.
Visite privative: De 1 à 15 personnes.
Durée de la visite: 1h15m.
Point de rendez-vous: Adresse communiquée au moment de la confirmation de la visite.
Période: Toute l'année.
Jour de la semaine: Samedi de 9h à 10h15.
Visite collective:
Adulte: $45 par personne.
Enfant de moins de 6 à 11 ans : $25 par enfant. <
Gratuit pour les enfants de moins de 6 ans.
Visite privative: $450 par groupe.
Groupe de taille plus importante: Veuillez nous contacter.
Il est possible de prévoir cette visite a votre convenance selon votre emploi du temps donc veuillez nous contacter si vous avez des dates spécifiques afin que nous vérifiions les disponibilités.
Service inclus: 1h de yoga – 15 mn préparation. Instructeur de Yoga.
Service non inclus: Pourboires pour l'instructeur de Yoga. Dépenses personnelles. Bouteilles d'eau. Serviette. Transfert au point de Rendez-vous.
Accessibilité: Nous pouvons prévoir un traducteur pour la langue des signes. Merci de nous contacter pour tarifs et disponibilités.
Guide: Nos guides licenciés se réservent le droit d'annuler l'excursion prévue en fonction des conditions météorologiques (Pluie, tempête, neige ou autres). En cas d'annulation, nous pouvons vous proposer une date alternative ou une annulation totale et dans ce cas, nous vous rembourserons intégralement.
Conditions d'annulation: Si vous nous communiquez une demande d'annulation à plus de 3 jours avant le jour de votre excursion, un remboursement de 50% vous sera effectué. Si vous nous communiquez une demande d'annulation à moins de 3 jours avant le jour de votre excursion, aucun remboursement ne vous sera effectué.
Demande de report: Toute demande de report de votre visite doit être faite par écrit et nous être envoyée par e-mail plus de 72 heures avant votre visite ou activité. Il n'y a pas d'exception. Sans un email dans les délais demandés, nous ne serons pas en mesure de reprogrammer votre visite.
Veuillez noter que si vous ne vous présentez pas le jour de votre visite ou activité, votre visite est considérée perdue.
Group tour: From 6 to 25 people.
Minimum 6 guests per group tour.
Minimum 25 guests per group tour.
If this number is not reached, you will be proposed to go on a private tour or to cancel. If you choose the latter option, you will be fully refunded.
Private tour: From 1 to 15 people.
Duration of the tour: 1h15m.
Meeting point: Will be emailed with your booking confirmation.
Period: All year round.
Days: Saturday from 9am to 10:15am.
Group tour:
Adult: $45 per person.
Children under 6 to 11 years old: $25.
Free for children under 6 years old.
Private tour: $450 per group.
Larger groups: Please contact us.
It is possible to schedule this tour at your convenience so please contact us if you have specific dates so we can check availability.
Services included: 15 minutes set-up time, 1 hour with a yoga teacher.
Services not included: Tips for the yoga teacher, personal expenses, Towel, Bottle water, Personal expenses, Transfer to the meeting point.
Accessibility:  This activity is available for the hearing impaired. We can provide a translator for sign language. Please contact us for rates and availability.
Guide: Our licensed guides reserve the right to cancel the scheduled tour due to weather conditions (rain, storm, snow or other). In case of cancellation, we can offer you an alternative date or a total cancellation, in which case we will give you a full refund.
Cancellation Policy: If you send us a cancellation request more than 3 days before the day of your tour, a 50% refund will be given. If you send us a cancellation request less than 3 days before the day of your tour, no refund will be given.
Request to reschedule your tour: All requests to reschedule your tour must be made in writing and sent to us via email more than 72 hours prior to your tour or activity. There are no exceptions. Without an email, we will not be able to reschedule your tour.
Pet: As much as we love them, they are not allowed.
Videos and pictures: We reserve the right to record video footage and photography in connection with future promotional and publicity for MAD Tours and Events on social media and website.
Belongings: Mad Tours and Events is not responsible for any personal items which are lost, stolen, or left behind.
Passenger Voucher check-in Instructions: On the day of tour or activity, please arrive 15 minutes early to the tour departure point at the indicated address sent with your confirmation.
No show: Please note that if you do not show up on the day of your tour or activity, your tour is forfeited.