Twin Tours and Tastings: Rum Distillery and wine tasting!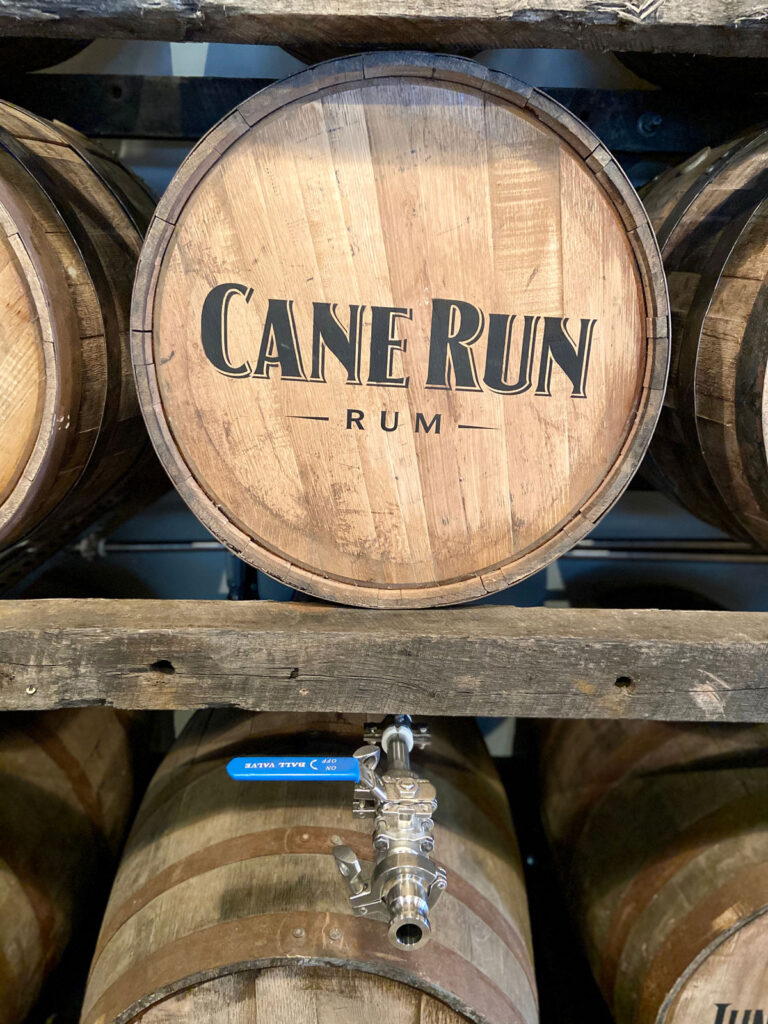 Twin Tours and Tastings: Rum Distillery and wine tasting! 
What could be better than spending time with your partner, friends and loved ones over a tumbler of quality rum or a glass of fine wine? Attention rum lovers and wine aficionados: this tour is for you. During the first tour, you will surely become a rum expert with a behind-the-scenes look at the oldest rum distillery still operating in the continental United States. You'll want to enjoy their award-winning Old New Orleans white rum, called Crystal. Then sample Amber Rum, which is aged for three years in bourbon barrels. This gives it a luscious amber color with golden highlights. When you bring this subtle blend to your nose, you can smell aromas of caramel, caramelized exotic fruits, honey and baked pear. If you swirl the glass of rum and sniff deeply you'll even detect traces of aged leather. The distillery's restaurant then offers cocktails featuring Old New Rum and an open bar with Crystal, Amber, Cajun spices and Gingeroo, plus a selection of exceptional beers and wines. Next, for the wine lovers of the group, we will enjoy a tasting at wine bar. Finally, we will return to the French quarter for a bit of history where you can finish the afternoon or evening on Bourbon Street!
Double visite et dégustation : Distillerie de rhum et vignoble de la Nouvelle-Orléans 
Quoi de mieux que de passer du temps avec votre partenaire, vos amis et vos proches autour d'un verre de rhum de qualité ou d'un verre de vin fin ? Avis aux amateurs de rhum et de vin : cette visite est pour vous. Au cours de la première visite, vous deviendrez certainement un expert en rhum en découvrant les coulisses de la plus ancienne distillerie de rhum encore en activité sur le territoire continental des États-Unis. Vous aurez envie de déguster leur rhum blanc primé Old New Orleans, appelé Crystal. Puis goûtez au rhum ambré, qui est vieilli pendant trois ans dans des fûts de bourbon. Cela lui donne une couleur ambrée succulente avec des reflets dorés. Lorsque vous portez ce mélange subtil à votre nez, vous pouvez sentir des arômes de caramel, de fruits exotiques caramélisés, de miel et de poire cuite. Si vous faites tourner le verre de rhum et le reniflez profondément, vous détecterez même des traces de cuir vieilli. Le restaurant de la distillerie propose ensuite des cocktails à base de Old New Rum et un open bar avec du Crystal, de l'Amber, des épices cajun et du Gingeroo, ainsi qu'une sélection de bières et de vins exceptionnels. Ensuite, pour les amateurs de vin du groupe, nous profiterons d'une visite et  dégustation dans bar à vin. Enfin, nous retournerons dans le quartier français où vous pourrez terminer l'après-midi ou la soirée sur Bourbon Street ! 
Visite privée : De 1 à 10 personnes.
Durée de la visite : 3hrs.
Point de rencontre : Sera envoyé par e-mail avec votre confirmation de réservation.
Période : Toute l'année.
Jours : Programmation à votre convenance – Contactez-nous
Visite privée : Visite pédestre & 2 heures visite en véhicule privé avec un guide
2 personnes : $879
3 personnes : $999
4 personnes : $1049
5 personnes : $1109
*Les prix sont susceptibles d'être modifiés et ne s'appliquent pas aux événements spéciaux tels que le Sugar Bowl, Mardi Gras, Jazz Fest et Essence Fest.
Groupes plus importants : Veuillez nous contacter.
Il est possible de programmer cette visite à votre convenance. Veuillez nous contacter si vous avez des dates précises afin que nous puissions vérifier la disponibilité.
Agences de voyages et professionnels du tourisme : Veuillez nous contacter pour obtenir votre tarif préférentiel.
Services inclus pour la visite privée : 3h de visite avec un guide diplômé, la visite d'une distillerie et d'un vignoble, les transports. La dégustation peut se faire dans le cadre d'un groupe de visite à la cave et à la distillerie.
Age requis: Cette visite n'est pas autorisée aux moins de 21 ans.
Services non inclus : Les pourboires pour le guide touristique, les dépenses personnelles.
Accessibilité : Cette visite est possible pour les personnes handicapées en fauteuil roulant, nous contacter pour les tarifs et la logistique.Cette visite est accessible aux personnes malentendantes. Nous pouvons fournir un traducteur pour le langage des signes. Veuillez nous contacter pour les tarifs et la disponibilité.
Guide : Nos guides agréés se réservent le droit d'annuler la visite prévue en raison des conditions météorologiques (pluie, tempête, neige ou autre). En cas d'annulation, nous pouvons vous proposer une autre date ou une annulation totale, auquel cas nous vous rembourserons intégralement.
Politique d'annulation pour la visite privée : Si vous nous envoyez une demande d'annulation plus de 7 jours avant le jour de votre tour, un remboursement de 50% sera effectué. Si vous nous envoyez une demande d'annulation moins de 7 jours avant le jour de votre visite, aucun remboursement ne sera effectué.
Animaux domestiques : Même si nous les aimons beaucoup, ils ne sont pas autorisés.
Demande de report de la visite : Toute demande de report de votre visite doit être faite par écrit et nous être envoyée par e-mail plus de 7 jours avant votre visite ou activité. Il n'y a aucune exception. En l'absence d'un courriel, nous ne serons pas en mesure de reprogrammer votre visite.
Vidéos et photos : Nous nous réservons le droit d'enregistrer des séquences vidéo et des photos dans le cadre de la promotion et de la publicité futures des visites et des événements MAD sur les médias sociaux et le site Web.
Biens personnels : Mad Tours and Events n'est pas responsable des objets personnels perdus, volés ou laissés sur place.
Check in : Le jour de l'excursion ou de l'activité, veuillez arriver 15 minutes à l'avance au point de départ de l'excursion à l'adresse indiquée envoyée avec votre confirmation.
No show : Veuillez noter que si vous ne vous présentez pas le jour de votre excursion ou activité, votre excursion sera annulée.
Private tour: From 1 to 10 people.
Duration of the tour: 3hrs.
Meeting point: Will be emailed with your booking confirmation.
Period: All year round.
Days: Schedule at your convenience – Contact us
Private tour*: Guided walking group + 2 hours transportation.
2 guests: $879
3 guests: $999
4 guests: $1049
5 guests: $1109
This tour is not allowed for under 21 years old.

Larger groups: Please contact us.
It is possible to schedule this tour at your convenience so please contact us if you have specific dates so we can check availability.
Travel agencies and Travel professionals: Please contact us for your preferential rate.
*Prices are subject to change and do not apply to special events such as Sugar Bowl, Mardi Gras, Jazz Fest and Essence Fest.
Services included for the private tour: 3h tour with a licensed guide, visit of 1 distillery and 1 wine bar, transportations. The tasting may be part of a tour group at a distillery.
Age minimum: This tour is not allowed for under 21 years old.
Services not included: Tips for the tour guide, personal expenses.
Accessibility: This tour is possible for people with disabilities in wheelchairs, contact us for the rates and logistics.
This tour is available for the hearing impaired. We can provide a translator for sign language. Please contact us for rates and availability.
Guide: Our licensed guides reserve the right to cancel the scheduled tour due to weather conditions (rain, storm, snow or other). In case of cancellation, we can offer you an alternative date or a total cancellation, in which case we will give you a full refund.
Cancellation Policy for the private tour: If you send us a cancellation request more than 7 days before the day of your tour, a 50% refund will be given. If you send us a cancellation request less than 7 days before the day of your tour, no refund will be given.
Pet: As much as we love them, they are not allowed.
Request to reschedule your tour: All requests to reschedule your tour must be made in writing and sent to us via email more than 7 days prior to your tour or activity. There are no exceptions. Without an email, we will not be able to reschedule your tour.
Videos and pictures: We reserve the right to record video footage and photography in connection with future promotional and publicity for MAD Tours and Events on social media and website.
Belongings: Mad Tours and Events is not responsible for any personal items which are lost, stolen, or left behind.
Passenger Voucher check-in Instructions: On the day of tour or activity, please arrive 15 minutes early to the tour departure point at the indicated address sent with your confirmation.
No show: Please note that if you do not show up on the day of your tour or activity, your tour is forfeited.